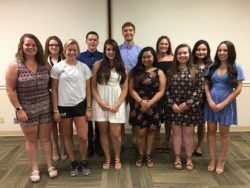 SwedishAmerican Awards 15 Scholarships to Associates' Children
As college tuition costs continue to rise, the good news is that SwedishAmerican is here to ease some of the burden through our Associates' Children Scholarship Program, which recently provided 15 one-year $1,000 scholarships to children of SwedishAmerican associates. To be considered for the scholarship, each applicant submitted an application, written essay, ACT scores, class rank, official school transcript, completed applicant appraisal, a personal letter of recommendation and a copy of his or her letter of acceptance.
Local winners are: Elyssa Marie Cornejo, daughter of Marissa (10th floor); Elizabeth Dudeck, daughter of Amber (Mother/Baby); Kelsey Edwards, daughter of Rachele (OB/GYN); Jake Elmer, son of Lisa (Professional Practice); Max Farson, son of Becky (CardioPulmonary Rehab); Annika Gummerus, daughter of Jennifer (Cath Lab); Erin Hosto, daughter of Robert (Radiation Oncology); Haylee Lerch, daughter of Amber (Respiratory Therapy); Paulline Manguerra, daughter of Jennifer (PCU); Matison Markhardt, daughter of Vicki (Quality Department); Marissa Sanchez, daughter of Jennifer (Strathmoor Pediatrics); Abigail Schoonover, daughter of Elizabeth (Case Management); Lauren Severson, daughter of Kim (Information Systems); Andrea Strohmaier, daughter of Jeanette (Food Services); Shannin Walter, daughter of Christina (Rochelle Clinic).
"Our Associates' Children Scholarship Program is just one more example of how SwedishAmerican is working to positively impact our associates and community," says SwedishAmerican Vice President of Human Resources Jerry Guinane. "As it is every year, this year's selection process was extremely difficult, and we express our gratitude over the interest these young men and women have shown in the program."
About SwedishAmerican
A division of UW Health, SwedishAmerican is dedicated to providing excellence in healthcare and compassionate care to the community. The organization serves residents of 12 counties in northern Illinois and southern Wisconsin through a dedicated and caring staff, a major acute care hospital and a free-standing outpatient cancer center in Rockford, a medical center in Belvidere, a network of 30 primary care and multi-specialty clinics and the region's largest home healthcare agency.