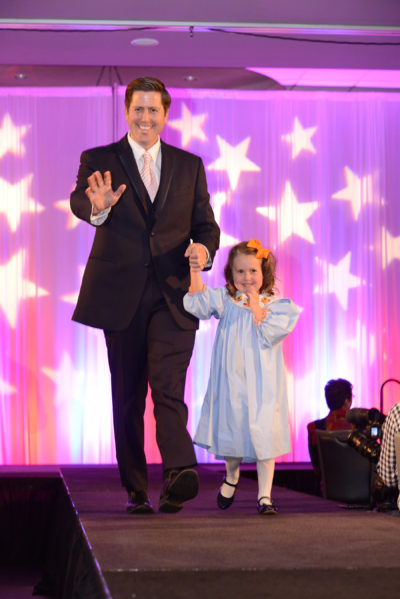 SwedishAmerican's Puttin' on the Glitz Fashion Show Raises More Than $50,000 for Oncology Patients and Families
The 19th annual Puttin' on the Glitz fashion show was a sell-out once again this year. More than 500 supporters attended this year's event on November 11 at Giovanni's, raising more than $50,000. Proceeds of the event benefit SwedishAmerican's BetterLife Wellness cancer resource services.
More than 25 local television anchors, newspaper reporters, hospital professionals and community officials modeled the latest fashions from Dress Barn and Men's Warehouse. Additionally, the second annual Commitment to Caring Award was presented to Greg and Kelly Jury for their efforts over the past 30 years to raise more than $1 million to benefit children's services at SwedishAmerican.
"We are extremely thankful for the support of our community and are pleased to be raising funds for our oncology patients and their families," says SwedishAmerican Foundation Director Laura Wilkinson. "Almost everyone has been touched by cancer in one way or another and this event was a great way to bring the community together and raise money for a valuable cause."
About SwedishAmerican
A division of UW Health, SwedishAmerican is dedicated to providing excellence in healthcare and compassionate care to the community. The organization serves residents of 12 counties in northern Illinois and southern Wisconsin through a dedicated and caring staff, a major acute care hospital and a free-standing outpatient cancer center in Rockford, a medical center in Belvidere, a network of 30 primary care and multi-specialty clinics and the region's largest home healthcare agency.
About the SwedishAmerican Foundation
Established in 1981, the SwedishAmerican Foundation raises and distributes funds to advance SwedishAmerican and its mission to care for our community. This includes SwedishAmerican Hospital, its clinics and the neighborhood surrounding the hospital. The Foundation also supports local community healthcare organizations that further the mission of SwedishAmerican. An appointed board of directors oversees the assets and activities of this nonprofit, tax-exempt Illinois corporation.