Copperstone Inn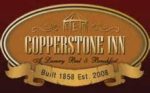 A LUXURY BED AND BREAKFAST
At Copperstone Inn you can expect genuine hospitality, impeccable attention to detail and unsurpassed comfort. With 130 unspoiled
acres, Copperstone Inn is the perfect retreat. This grand majestic limestone home exudes an ambiance of total elegance, serenity, and
rustic sophistication.
Copperstone Inn delivers a guest experience that seamlessly delivers service, style and relaxation. 7 beautiful suites, spa, theater area, 4 person hot tub, fireplace and Jacuzzi suites.
Located in Northern Illinois, your wedding and reception will be the most beautiful, elegant and unique.
Your guests will be entertained and delighted. Your special day will be remembered by all who attend. The beautiful gardens, organic apple orchard, one hundred thirty acre private estate is perfect.
The Copperstone Inn at Orchard Ridge Farms is an ideal choice for your wedding and reception. Copperstone Inn is perfect for intimate weddings, our Pavilion was created for weddings & events of 100-500 guests. At both spaces, we specialize in offering warmth and hospitality not readily found today that allows family and friends to gather in a relaxed atmosphere. Together we will help you experience a reception that will delight both you and your guests.
Send Message to listing owner
Copperstone Inn