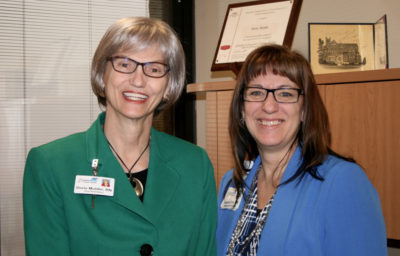 Beloit Health System Announces Leadership Change
Last year, Beloit Health System Vice President and Chief Nursing Officer Doris Mulder, RN, BSN, MBA, CENP, announced her intention to retire in 2017. Doris first joined Beloit Health System in 1986. She became Vice President, Chief Nursing Officer in 1999 where she maintained oversight for all inpatient-nursing units, surgery, clinics, the emergency department, dialysis, the Cancer Care Center, and all nursing care provided throughout the health system. In her tenure at Beloit Health System, Doris has been a key member of the senior leadership team, leading many important patient care and service initiatives including development of strategies to improve patient throughput; implementation of new nursing roles; and development of strategies to improve efficiency and patient satisfaction. Under her leadership, Beloit Health System has earned patient satisfaction scores of more than 95 percent for nursing care.
Effective March 1, 2017, Doris will step away from her role as Vice President, staying on with Beloit Health System to assist with on-going projects until later this year.
Sharon Cox, RN, BSN, MSN will assume the role of Vice President, Chief Nursing Officer for Beloit Health System following Doris' retirement. Sharon, who is finishing her Doctorate of Nursing Practice, joined Beloit Health System in 1998 as a CNA. She has worked as a RN since 2000 and advanced to serve in many leadership roles including Nursing Supervisor and Clinical Manager. In 2013, she was named Director of Oncology.
As Director of the oncology service line, Sharon led the development of the UW Health Beloit Cancer Center, a partnership that brings cutting-edge cancer services close to home. Under her leadership, the Cancer Center has expanded services and consistently achieved patient satisfaction scores of greater than 90 percent.
Among her other accomplishments, Sharon was instrumental in helping to implement the health system's electronic medical record and has been a leader in developing partnerships with local non-profit organizations including Rock County Cancer Coalition and Community Against Cancer. She has served as Director of Nursing Administration/Education coordinating the team's ability to envision, design, and direct the continuous improvement of education and retention strategies throughout Beloit Health System.
About Beloit Health System
Beloit Health System is a healthcare organization providing care for the residents of southern Wisconsin and northern Illinois. Beloit Health System offers residents inpatient and outpatient services including the area's most innovative heart and vascular program, a Level III Trauma Center, advanced orthopedics, cancer care, and the region's first comprehensive health and wellness campus at NorthPointe in Roscoe, Illinois. Beloit Health System includes: Beloit Hospital, Beloit/UW Cancer Center, Occupational Health, Sports and Family Medicine, NorthPointe Health and Wellness Campus; the assisted living facilities located at NorthPointe Terrace and Riverside Terrace; Beloit Regional Hospice; and a network of doctors and advanced practice professionals providing care at the Beloit Clinic, Westside Clinic, Clinton Clinic, Darien Clinic and Janesville Clinic. Visit us online at beloithealthsystem.org.