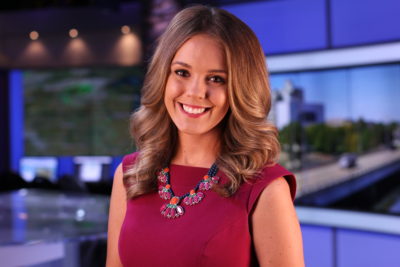 13 News Today Meteorologist Morgan Kolkmeyer to join WGN in Chicago
ROCKFORD, Ill. (WREX) – 13 News Today meteorologist Morgan Kolkmeyer will be joining "WGN Morning News" in Chicago at the end of May.
Kolkmeyer, a Rockford-native, has served as the morning show meteorologist at 13 WREX since August 2014. She was a part of two Emmy Award-winning morning newscasts in 2015 and 2016.
Kolkmeyer will join WGN as a weekday meteorologist for the 4 a.m.-6 a.m.portion of WGN Morning News.
"Making the jump from Rockford to Chicago is a dream come true for many young journalists," said Josh Morgan, News Director at 13 WREX. "Morgan has the talent and the drive to make this jump a success."
She is a 2009 graduate of Harlem High School and a 2013 graduate of Northern Illinois University. Before joining WREX in 2014, Kolkmeyer worked for KQDS in Duluth, Minnesota. She was also an intern at 13 WREX before starting her professional career.
Kolkmeyer's last day at 13 WREX will be Friday, May 26. She will start the following week at WGN.
Quincy Media, Inc. and its subsidiaries do not discriminate in the sale of advertising in any medium (broadcast, print, or interactive), and will accept no advertising which is placed with an intent to discriminate on the basis of race or ethnicity.